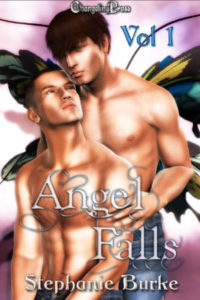 Title:
Angel Falls Vol. 1
Series:
Angel Falls #

5.5
Genre:
Dark Fantasy
,
Paranormal Romance
,
Urban Fantasy
ASIN:
B07PPPN1FP
Pages:
380
Release Date:
2019
Published by:
Changeling Press
Most people avoid Angel Falls. They say it's filled with crazy geeks and weirdoes. And they're right. But Angel Falls has the best geeks and weirdoes anyone has ever met.

Broken Wings: Angel, foundling turned NFL star quarterback, and Klintic, a Fae warrior prince, have both been tested in the fires of torment and anguish and managed to survive to find each other. That the ex-footballer and the betrayed prince manage to discover each other is a miracle. With the town of Angel Falls on their side, broken wings will learn to fly once more.

Snake: Snake's lived a good, long life and is comfortable doing tattoos and body modifications in her shop. But when young Ethan comes to her, he opens more than memories to her past. He unleashes a love she could never have anticipated. A May/December relationship will never work, but with a little magic and the secrets held in the town of Angel Falls, maybe together they can give love a second chance.

Sunspots: Bryan Adams finally has a date with the man of his dreams -- Winston Macapthy, RN, descendant of a sun god and a caracal shifter to boot. Finally the geeks are going to come out on top. But if Bryan's less-than-perfect physique doesn't put off the handsome shifter, then kidnapping, torture, and running for their lives might.

Or it may just be another perfect weekend… perfect for the small Maryland town of Angel Falls.

Publisher's Note: Angel Falls Vol. 1 contains the previously published novellas Broken Wings (M/M), Snake (M/F), and Sunspots (M/M).
Buy the Book: Changeling Press | Amazon | Amazon (Print) | Apple Books | B&N | Kobo | Scribd
Also in this series:
Themes: Bisexual, Pansexual & Gender Non-Conforming, Cougar, Elves, Dragons & Magical Creatures, Gay, Magic, Multicultural & Interracial, Shapeshifters