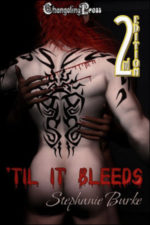 Darkness, demonic possession, the gates of hell threaten to open, and evil threatens to rise over the land… in Ohio.

The Hands of Fate, a pair of ancient relics with untold power, have gone missing, and it's up to a special pair of operatives to recover them.

The Guild has assigned their best bonded fighting unit, Faith and Vice, to recover the legendary Hands from a scheming under-investigator seduced by their dark power. But with summoned demons, power hungry humans, and maybe even the Guild itself standing in the way, the two men have an unrelenting fight on their hands. A fight to save an undeserving humanity from itself, protect the innocents they are sworn to save, and uncover the dangerous truths hidden deep within the hearts of the Guild, all while holding their own inner demons under tight rein -- demons driven by lust and blood hunger, and only satiated by each other.

To succeed, and to save the world, they may have to fight -- 'Til It Bleeds, and beyond.