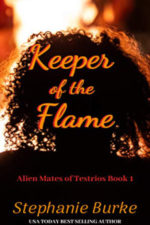 A stranger from the stars. An unbelievable birth. A single father and prince. This is not your mother's fairy tale…

Flame, a male gifted with a power no man has ever possessed carries another, more precious burden. He will save his children, even if he has to run on another planet.

A woman betrayed. A healer who has spent a lifetime caring for others.

Kendall Moore is ready to spend her honeymoon alone when strange, bright lights reveal a pregnant man on her doorstep. Kendall is motivated to help, but she really has no idea what she's getting into.

Her ex is stalking her, his queen-mother's death squad is following him, and they are the center of an adventure bigger than anyone could ever have imagined.

When you play with fire, you might get burned… in the most amazing ways.