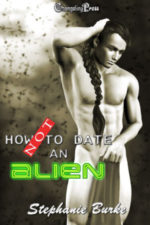 Kilana knows what her eyes are telling her can't be true.

There's a naked man in her bed and he's glowing. And then there are the solid black eyes, the floating several feet above the bed, and the most damning of all... he has antennas.

The newly divorced Kilana thinks she's seeing things, but when he opens his mouth and tells her he's hunting humans and his intentions are to devour her, Kilana knows she has an alien problem.

But who will help her get away from the admittedly sexy creature that wants her pleasured and fattened until her flavor is perfect? Maybe her hair-brained friends Se and Lena can help her avoid the big suppertime cut...

Or maybe she's on her own with the drooling, leering, orgasm-delivering fiend. And maybe dating an alien won't turn out to be as big a problem as she thinks.